While many Cardinals players will be using the departing World Baseball Classic players as an opportunity to impress at Spring Training, Andre Pallante will do the exact opposite. 
Pallante will join Team Italy at the WBC, a team managed by Hall of Famer Mike Piazza, and will play a vital role with the club as one of its more notable pitchers. With the opportunity to serve as a starter for the Italian side, Pallante will relish being built up to a larger workload in a more reliable setting for potential appearances. 
"They'll want me to be a starter for their team and build me up to 45 or 50 pitches. So that's an opportunity for me to throw more." Pallante said, "Especially with how last spring training was, it was hard to get guys innings. I remember throwing on backfields and stuff like that, so you only get so many opportunities. Having the opportunity to compete out there, you actually get some more pitches and can be more ready for the season."
The decision to join team Italy came from hearing about past experiences his teammates have had. He credits the high praise from Nolan Arenado and Paul Goldschmidt as his decision to commit to Italy, where his great-grandparents are from, thus giving him eligibility.
"I'm looking forward to it; I got to talk to our pitching coach Jason Simontacchi. It was cool talking to him about it, and I'm really looking forward to it, it's going to be a great time."
Simontacchi, who played for the Cardinals from 2002 to 2004 and represented Italy at the 2000 Sydney Olympics, was Pallante's autograph table partner at Winter Warm-up Sunday afternoon. Other major leaguers to commit to team Italy include Blue Jays closer Jordan Romano, newly signed Cubs outfielder Trey Mancini, and Orioles reliever Nick Vespi.
Carlson, Winn both look to add weight, strength
Coming off a year that was plagued by injury and inconsistencies, Dylan Carlson hopes to add some more strength and weight as he prepares for his third full season at the major league level. The goal is to make sure his body is prepared to withstand the wears and tears of a 162-game season after he had two IL stints in 2022 for separate thumb and hamstring strains.
"Being available is the biggest thing. You can't help the team win if you're obviously not in there," Carlson said.
Shortstop prospect Masyn Winn is also looking to add weight, but for a different reason. Winn hopes to arrive to spring training weighing anywhere from 180 to 185 pounds and believes that adding the extra strength could provide "a little bit more thump" to his game. Last season, Winn connected on a career-high 12 homers — 11 of which came following his promotion to Class AA — and set a personal-high in slugging percentage with a .468 mark.
But the speedy 20-year-old who swiped 43 bags last season doesn't want to overdo it.
"I'd like to keep my speed. I like to be the guy that gets on base for the Jordan Walkers for the (Paul) Goldschmidts to hit me in," he said. — Daniel Guerrero (4:30)
Dusty Blake's tour takes him to South Georgia
As part of what manager Oliver Marmol referred to as a "hands-on offseason," pitching coach Dusty Blake and hitting coach Turner Ward, both in their first season's in the role with the Cardinals, hit the road for some visits with players this season.
Ward recently visited the warehouse that Nolan Arenado has converted into a facility for workouts and hitting, and there in Orange County, Calif., Ward met with Arenado, Lars Nootbaar, Tommy Edman, and Nolan Gorman. He was able to work with them, discuss their approaches, and also get a feel of anything they adjusted and advanced over the offseason.
Blake's trip to south Georgia was about more than one pitcher.
This past week, Blake and Adam Wainwright spent a day together in and around Wainwright's hometown, not too far from the Georgia-Florida state line. Wainwright said they spoke for about four hours, and Wainwright's fix to his mechanics at the end of the 2022 season were part of the conversation. But so too were all the pitchers on the club.
"He had notes and notes and notes, pages and pages on each pitcher, the whole 40-man roster," Wainwright said. "And how he thinks they can become a better version of themselves.
"He's got a plan for that."
— Derrick Goold (3:39 p.m.)
Winn on Oquendo: "He's a wizard, man. He's really Yoda."
When it comes people within the Cardinals' organization who Masyn Winn feels like helped him improve his defense, one name came to mind: Jose Oquendo. Oquendo — a former Cardinal and current minor-league fielding instructor with the same organization he played 10 seasons for — owns the second highest fielding percentage (.9919) all-time for second baseman in Major League Baseball history.
Winn, who is known for his strong throwing arm, ended the 2022 MiLB season with a .968 fielding percentage and committed 14 errors in 948 1/3 innings compared to the 24 errors he committed in 718 2/3 innings in 2021.
"It's amazing. I think whenever he talks, everyone listens." Winn said. "The day I met him was the day I fell in love with his coaching and how he did things. You got guys from Yadier Molina, who played for 20 years (and) Albert Pujols who has been playing forever, those guys listen to Cheo the same way I do. If you see legends like that listening to him, you really to soak everything up. I'm a sponge around that guy. Everything he has to say is I'm trying to take it in." Daniel Guerrero (2:56 p.m.)
2021 AFL success gives Thomas hope for MLB call-up after strong 2022 AFL showing
The use of a cutter he developed during the season with Class AAA Memphis and debuted in the Arizona Fall League led Connor Thomas to become the AFL Pitcher of the Year and a spot on the Cardinals' 40-man roster. He'll have a chance to earn a spot in the Cardinals' bullpen come spring and the path that last year's rookie class had has given the lefty some promise for a call-up to the majors in 2023.
In 2021, prospects Nolan Gorman, Zack Thompson, Brendan Donovan, Andre Pallante, Jake Walsh, and Juan Yepez were among the players sent to the prospects league along. All those prospects made their MLB debut the following season.
This past AFL class for the Cardinals included Thomas, Jordan Walker, Masyn Winn, Tink Hence, Mike Antico, Kyle Leahy, Pedro Pages, and Ryan Loutos. Thomas is the only one of the group who was added to the 40-man roster heading into spring training.
"When I started looking at that stat, I started liking my chances," Thomas said. "I think that the integration of young guys for our team next year is so huge. And it's good that those guys last year did so well when they got their opportunities because it keeps the door open for us coming up. So I owe them a lot, too." — Daniel Guerrero (2:36 p.m.)
New rules for pitchers are coming to Major League Baseball in 2023, and the St. Louis Cardinals catchers believe the newly implemented pitch clock will make things more difficult for their teammates both on the mound and the batter's box. 
Top catching prospect Ivan Herrera had some experience with the rules that will be implemented to major league play last season while playing with the Memphis Redbird. The minor leagues utilized the new rule set last season. 
"I had to get used to it," the Panamanian catching prospect said, "the hardest thing for me was ending an inning and then having to change into my gear…it's good for some pitchers. But it's not even about me. It's about winning, so I'd rather have my pitcher comfortable." 
Andrew Knizner, who is poised to be the backup catcher for the Cardinals on opening day, is less worried about the impact on his pitching staff and more about his teammates who hit. 
"It will be tougher for hitters. That's just my prediction." Knizner said on day one of Winter Warm-up, "Hitters seem to have more of a slower pre-pitch routine. They step out, adjust, argue about a call and then have to get back in the box. So I think looking into next season, the hitting side will be the biggest adjustment…it'll be a learning curve." 
"I think our pitchers do a good job managing tempo and pace," Knizner added, "I don't think there'll be many problems from a game calling side now the pitch comm, that's pretty efficient." — Carter Chapley (2:06 p.m.) 
Arenado: Rotation will shape Cardinals chances
The question to Nolan Arenado was about the catcher the Cardinals added this offseason, but his answer flipped the script and said what will shape the season will be who Willson Contreras catches.
What will lift the Cardinals as contenders is their arms, he said.
"I think it all comes down to our starting pitching staying healthy," Arenado said during his meeting with the media at the 26th Winter Warm-up, his first with the Cardinals. "These guys are good. When you have Jack (Flaherty) healthy, he's one of the best pitchers in the game. And I think if we can get him right – he says he feels great, and he looks great when I saw him. Just having that guy go out there and give us a great chance to win every time. Obviously Miles (Mikolas) is a horse. Mont (Jordan Montgomery). (Steven) Matz is healthy.
"Dakota – I think is going to have a bounce-back year," Arenado continued. "These guys are all working hard and we need them. We need them to stay healthy. Like I said, a lot of these teams that are winning it seems like their starters are able to stay healthy throughout the year or if they have somebody who comes in they have somebody who comes in and helps out and sustains winning for a little bit.
"If we can keep those guys healthy – Waino (Adam Wainwright) just doing his thing – we're going to be alright."
After electing not to meet the prices of starting pitchers in the open market, the Cardinals have bet on the rotation they already had in place. Six starters from the previous season return: Wainwright, Mikolas, Montgomery, Hudson, and two starters who finished the year in the bullpen due to injuries, Matz and Flaherty. On Saturday, John Mozeliak, president of baseball operations, said his confidence in Flaherty was at an "all-time high." He also added that Drew VerHagen will be coming back from hip surgery and given a chance to start.
Jake Woodford, Matthew Liberatore, and a handful of other prospects like Connor Thomas and Michael McGreevy will also get ample innings this spring as several veterans leave for the World Baseball Classic.
From quantity, the Cardinals are banking on quality emerging.
The strength of the team is the support they have in place for that pitching.
"Our defense," Arenado said when asked about the strength of the roster. "Our defense is, I think, the best in the game, and it has been the past two years, in my eyes. I think that's our biggest strength right now. We'll see. Offense, we could really take a big stride this year. We've got some young guys who are good ballplayers, and we need them to take big strides. And then hopefully me and Goldy (Paul Goldschmidt) can do our thing."
And then he brought the answer back to where the question started.
"Having Contreras is obviously going to make us so much better," Arenado said.
Wainwright and Mikolas will join Team USA for the WBC in March, and that frees up innings and starts during Grapefruit League play for Hudson and others to make their bids for a spot on the rotation. The Cardinals intend to go into the year with Wainwright, Mikolas, Montgomery, Flaherty, and Matz as the five-man rotation. Mozeliak has lauded what is expected from Montgomery in his first full season with the Cardinals and last season before free agency. Flaherty is at the same point in his career but coming off three abbreviated seasons.
Internally, the Cardinals believe a healthy Flaherty can lead a rotation.
The 2023 Cardinals go where their arms point them.
"Nolan is spot on," manager Oliver Marmol echoed. "A lot of it will come down to that."
— Derrick Goold (12:51 p.m.) 
Donovan, who won Gold, says Edman is 'better defender'
The National League's first winner of the utility fielder Gold Glove Award suggested there was an even better defender at his position — and on he's on the same team.
Brendan Donovan, the Cardinals' versatile rookie who capped his first season in the majors as the inaugural winner of Rawlings' newest defensive honor, said he did not call or contact teammate Tommy Edman to brag about winning.
"Tommy is a better defender," Donovan said, smiling Sunday as he cycled through the media room at this weekend's Winter Warm-up. "You hit it to him, you're out."
Edman and Donovan were both finalists for the utility Gold Glove Award. Edman won the Gold Glove at second base in 2021, but splitting his time between shortstop and second base made him eligible at two spots for the Gold Glove honor. Overall, Edman led all major-league infielders in defensive runs saved, and he had one of the highest plus-minus scores of any fielder. 
Where Donovan had the edge for the award was versatility.
As Rawlings, a St. Louis-based company that has given out defensive hours for six decades, sought to acknowledge utility fielders and the expanded use of players all over the field, they did make an element of the award playing numerous positions. With strong defensive metrics at third base and the outfielder, Donovan added to his time at second base. The appearance at so many positions and steady play there put him ahead of other candidates.
Donovan lauded Rawlings for starting the award because as he approached the majors he wondered if there would be a way players who handled multiple positions could be honored.
Shortly before Rawlings announced the creation of a utility Gold Glove, the Post-Dispatch had a story asking if it was time for such an award.
Rawlings will present the Gold Glove awards to Cardinals winners and the Platinum Glove Award to Nolan Arenado at Sunday night's St. Louis Baseball Writers' Dinner. — Derrick Goold (12:10 p.m.)
Bat is key, but DeJong will play multiple positions
Whether Paul DeJong leaves spring training on the Cardinals' opening day roster will be determined by his production at the plate, but to make it possible for him to contribute the All-Star shortstop will see time at other positions.
Cardinals manager Oliver Marmol said that DeJong will have to work at positions around the infield so that he can serve in the role had previously by Tommy Edman and Brendan Donovan. DeJong advanced through the minors as a third baseman before a shift to shortstop at Class AA. He has experience on the right side of the base from the drills the Cardinals do for shifting players, and in college DeJong played all over the field.
Asked if DeJong might get time in the outfield too, Marmol said that DeJong will see time "all over the infield. In the dirt."
"By rule," Marmol nodded.
DeJong has spent the winter in Jupiter, Fla., working closely with the Cardinals' hitting coaches at the team's facility. He has been reworking both his swing and his approach while also addressing some of the strength and health that complicated recent years. Marmol said he receives a report each day that gives the data download on DeJong's workout and where the gains or changes are being made in his swing. — Derrick Goold (12:21 p.m.)
Herrera headed to WBC with Panama
Add another Cardinal to the growing list of players who will be leaving spring training to compete in the World Baseball Classic, and will have a long journey ahead. Catching prospect Ivan Herrera will be on Panama's national team, he confirmed Sunday.
"I'm excited to see what happens," Herrera said. "I'm happy to represent by country. Playing for Panama is one of the best things in the world."
Panama opens the tournament in Taiwan, and if it advances out of pool play the quarterfinals will be in Tokyo. Panama's pool includes Italy, Chinese Taipei, Cuba, and a strong Netherlands club. — Derrick Goold (12:16 p.m.)
Michael McGreevy hopes to capitalize on World Baseball Classic exodus 
Cardinals pitching prospect Michael McGreevy plans to take advantage of the many Cardinals major leaguers leaving spring training for the World Baseball Classic. "With the opportunity presenting itself, I definitely want to take advantage." McGreevy, 22, said, "Going into spring training, I'll eat the crumbs if I have to. I want to get as much exposure to big league time as I can."
McGreevy, 22, was a breakout star in the minor leagues last season, marking his first full year as a professional. The 18th pick in the 2021 draft, McGreevy jumped from high A Peoria to AA Springfield after an excellent start to the season.
While McGreevy was on a limited pitch count, he still pitched 144 innings in 28 games last season, striking out 117 batters and earned a pitcher of the month award in April. —Carter Chapley (11:15 a.m.)
First Winter Warm-up 'surreal' for Hence
For 20-year-old right-hander Tink Hence, his introduction to Cardinals fans through the club's caravan stops and Winter Warm-up across the midwest has been a warm embrace for one of the organization's top pitching prospects. Hence pitched 52 1/3 innings with Class Low-A and posted a 1.39 ERA, a 0.88 WHIP, and struck out 81 batters, but has yet to pitch above the Low-A level. Hence is expected to see a gradual increase in his workload through 2023 and a higher level of competition in what will be his second full season of minor-league baseball since getting drafted in 2020 behind Jordan Walker and Tink Hence.
"You see a lot of things on Twitter about the fans," Hence said. "I'll watch the games. I see the fans, but to just to actually be there and just be there and just see they way embrace you and show love, there's no better feeling than that." — Daniel Guerrero (11:07 a.m.)
Nolan Arenado sees growth in Lars Nootbaar, even within winter
The excitement about Cardinals outfielder Lars Nootbaar has spread from St. Louis to Southern California to across the Pacific to Japan (and back to St. Louis, where LA-based Japanese media flew in for Winter Warm-Up to write about "Noot").
Nootbaar's plan is to play for Team Japan in the World Baseball Classic. The 25-year-old SoCal native, perhaps you heard, broke out in the second half last season. In 200 at-bats he hit 10 homers and tallied an .846 OPS. Overall, his 2022 OPS was .788.
The young player has befriended Cardinals superstar Nolan Arenado. They've spent time together in the sunny LA area, where they both train.
"I've seen Noot work this offseason, and I just think he looks so much better swinging and hitting," Arenado said Sunday at Winter Warm-Up. "I mean, I think he's got a chance to be really good in this game. I do. He's got to go out and do it, he knows that. But the steps he's made this offseason with his swing and the way he looks? I remember we hit earlier in the offseason, he looked fine, looked like 'Noot.' And then I was with him a couple weeks ago, and I was like — wow, it looks a little bit different, you know? Sounds a little bit different. Moves a little different. So I expect him to be a huge piece for us." – Benjamin Hochman (10:52 a.m.)
Intro to live Cardinals coverage at Warm-up
After a successful first day of Winter Warm-up at Busch Stadium and Ballpark Village, day two is off to a fast start. Those expected to speak today include Platinum Glove winner Nolan Arenado, manager Oliver Marmol, Gold Glove winner Brendan Donovan, Lars Nootbaar, top prospect Tink Hence, Dylan Carlson, and more. 
Check back in throughout the day for updates provided by all members of the Post-Dispatch team. — Carter Chapley (10:03 a.m.)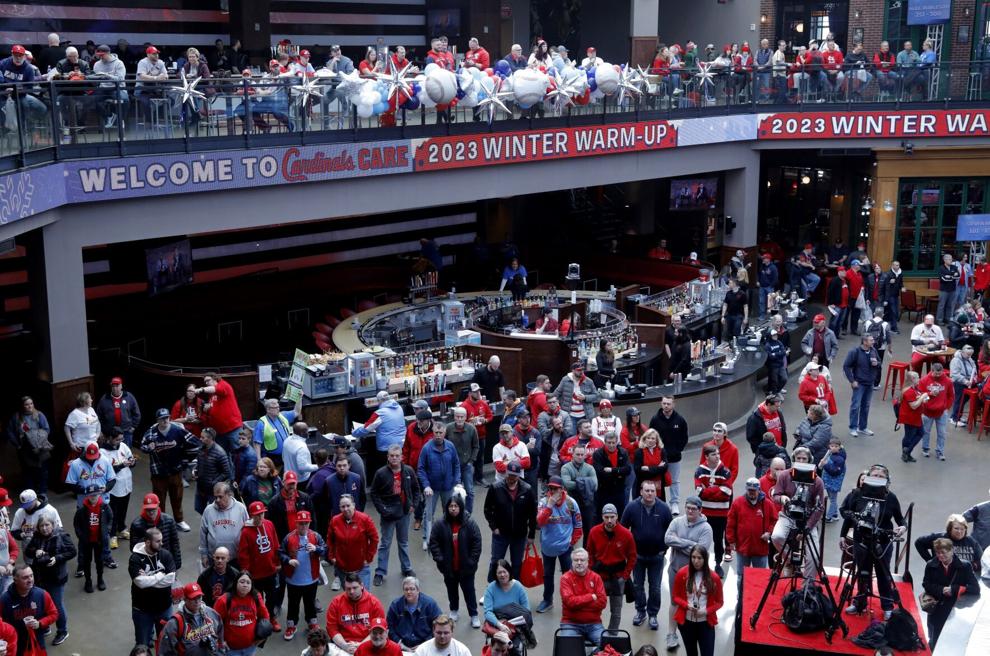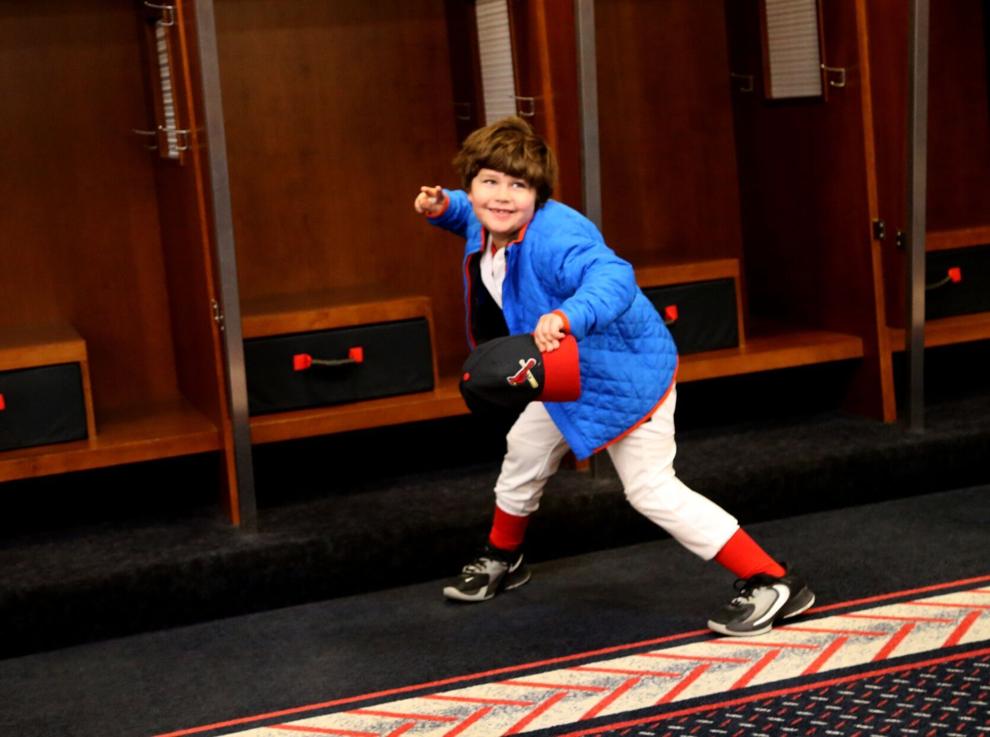 .