Key events
And here's our report from Old Trafford. That's all from me – thanks for reading!
Full-time! Manchester United 3-1 Reading
After after the walking-pace formalities of the final few minutes, the referee blows up and United are in the fifth round. A third-gear win in the end, with Antony and Casemiro a class above everyone else. Reading defended stoutly but offered too little going forward and were virtual spectators once Carroll got himself a hard-earned red card.
"Did the rearing drizzle-soaked Highland stag ever line up against Duncan Ferguson?" asks Peter Richards. Sadly not. Will Andy Carroll ever end up managing Forest Green Rovers, I wonder?
87 mins: As United break at pace, Garnacho looks up and finds Anthony unmarked in the box, but the Brazilian falls over at the vital moment and skews an easy finish badly wide.
Jonas Gruvaeus writes: "Regarding Nesta Guinness-Walker, it might very well be the jamaican icon and reggae superstar Robert Nesta Marley who gave the kid his name, not Alessandro the great."
Matthew Lysaght writes: "Your colleague Barney Ronay once described Andy Carrolls style of play as that of 'an angry Buffalo hurled from a hotel balcony' which pretty much sums up his showing this evening."
Quite right. Other Ronayisms used to describe Carroll over the years: "like a vast mahogany Victorian bookcase toppling off a wall", "an Action Man hurled into the middle of a dolls' tea party" and "football as interpreted through the eyes of a rearing drizzle-soaked Highland stag". Pick your favourite.
77 mins: Malacia is booked for bringing down Ince, who'd jinked past him nicely down the right.
73 mins: Double sub for United: Weghorst and Casemiro make way for Elanga and Mainoo.
Goal! Manchester United 3-1 Reading (Mbengue 72)
Not-quite-game-on! Reading pull one back when Ince swings in a corner from the right and Mbengue, fresh off the bench, meets it unmarked to nod home from four yards out.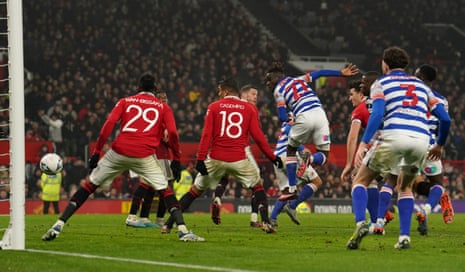 70 mins: Garnacho is sent on for Rashford and immediately creates a chance, scurrying into the box, turning the defender inside out and firing off a low shot that is palmed away by Lumley and somehow cleared by the defence as Pellistri (on for Bruno) slides in.
Goal! Manchester United 3-0 Reading
And that's that. United make it three as Fernandes takes a short corner a fires a low cross into Fred, who Zola's it home with a backflick.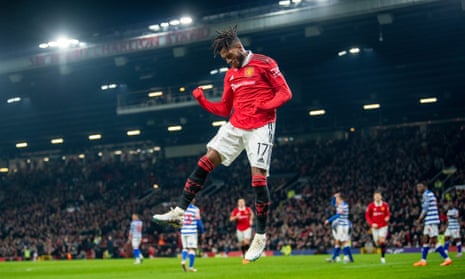 Red card for Andy Carroll!
No sooner has he got his first booking than Carroll gets himself an equally empty-headed second, launching himself into a sliding tackle on Casemiro from miles away. So far in fact that the midfielder sees it coming, gets his pass away, and steels himself for the contact sends him flying. Oh dear.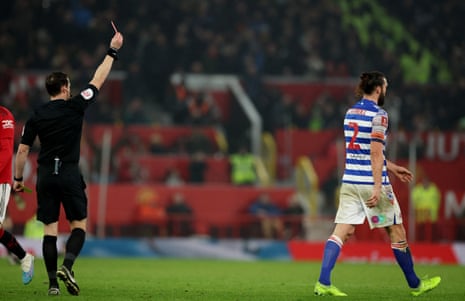 60 mins: Carroll gets his booking, racing across the pitch to clatter poor Malacia. Ince send on Fornah for Loum.
Goal! Manchester United 2-0 Reading (Casemiro 58)
United double their lead instantly when Fred (who has just come on for Eriksen) lays the ball off to Casemiro 30 yards out and the Brazilian takes his chances with a first-time curler. The ball takers a flick of Holmes's head and lands flush in the bottom corner.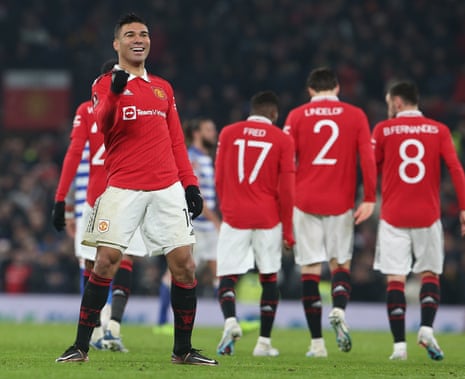 Goal! Manchester United 1-0 Reading (Casemiro 55)
United take the lead at long last and unsurprisingly it's Antony who unlocks the Reading defence. He kills a crossfield pass dead, cuts in from the right and slips in Casemiro, who has made a rare run into the box beyond the United frontline. The midfielder holds Loum's challenge and scoops the ball over the prone Lumley.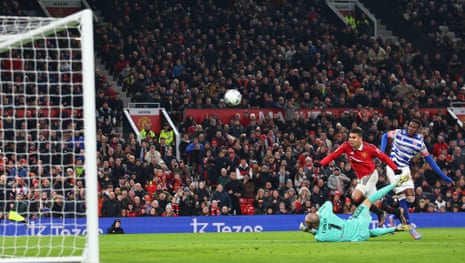 54 mins: Carroll's involvement continues as he miscontrols the ball, is pickpocketed by Eriksen, and throws himself into an untamed scissor-tackle on the halfway line. He gets away without a booking.
51 mins: Momentary excitement at the Stretford End as the bearded Carroll unleashes a perfectly struck and seemingly goalbound long-ranger, but it's blocked. A minnute later he controls a throw-in with his chest and under little pressure lamps it out for a throw. Swings and roundabouts.
48 mins: United's first sight of goal this half comes as Bruno surges forward and the defence opens up ahead of him. He has plenty of time to measure up the shot but wallops it wildly over.
46 mins: And we're back. Reading get the half started and hoof it straight out of play.
Peter Oh writes: "Man United undoubtedly have got some big, glittering names, but arguably the most sparkling name on the team sheets tonight is that of Reading substitute Nesta Guinness-Walker. A quick Ask Jeeves search reveals that he is the great-grandson of acting legend Alec Guinness. And I dare say that his first name must have been inspired by the legendary Italian centre-back Alessandro Nesta."
Half-time: Manchester United 0-0 Reading
Not exactly a thriller but not bad either, United with plenty of half-chances and a disallowed goal, Reading with the best opening of the half. Stay tuned!
45 mins: Huge chance for Reading! Loum burrows forward down the left and swings in a cross which clears both United centre-backs and sails towards Malacia, who decides to control the ball on his chest inside his own box. Hoilett pounces, robs the full-back and stabs the ball towards goal, but De Gea gets down in a flash to tips it away.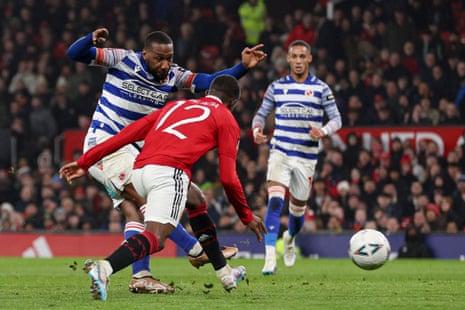 41 mins: Antony and Wan-Bissaka again combine well and the latter sends in a cross which finds its way all the way over to Rashford on the left. He goes back to Fernandes, who slips the ball into the box to the onrushing Casemiro. He throws himself to the floor under a challenge from Hoilett but the ref isn't having any of it.
37 mins: Antony starts another United attack, this time passing square to Casemiro, who ball into the box his the heel of Holmes and loops upwards. Weghorst reacts first, jumping to nod the ball across goal from the right, and Rashford is waiting at the far post to head home from an acute angle. Lumley shovels it away, though not before it's crossed the line. But wait: a VAR check rules it out for an offside against Weghorst in the buildup.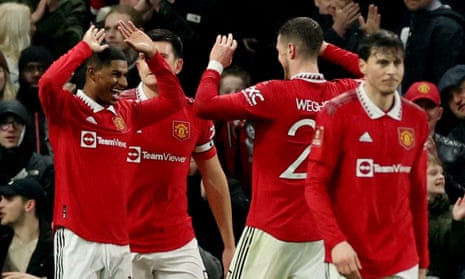 33 mins: Antony picks up the ball in the right-back zone and sprints the length of the pitch with it at his feet. He cuts inside but rather than going for goal he slides in Bruno, running into the box, whose shot from the inside right channel is dragged just wide of the far post.
"Weghorst and McGuire are such galoompers," writes Jeff Sax. "I don't know what they doing in the team." Harsh?
26 mins: Another forward run from Malacia, another block from Holmes. This time it's Eriksen's shot after the half-cleared ball falls to him on the edge of the box. Then Antony scurries forward once again and with a nice early pass he picks out Bruno, who attempts to pass the ball into the top corner from 15 yards out but puts it just over the bar.
22 mins: Rashford feeds Malacia down the left, and the full-back dinks in a cross which Reading make a hash of trying to clear. The ball falls to the feet of Weghorst, who tries to shoot first-time on the turn from six yards out but Holmes gets across with a desperate lunge and blocks heroically. A minute later Antony goes for the Robben again but this time it sails over.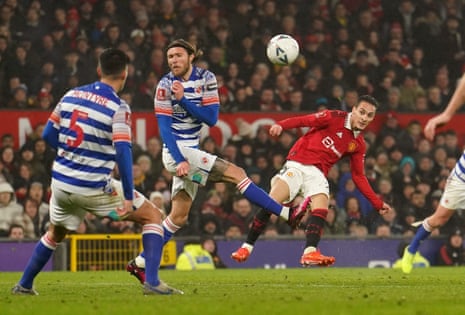 18 mins: United put together a rapid attack, with Bruno, Antony and Eriksen moving the ball forward sharply. It end up at the feet of Brazilian, who Robbens his way in from the right and goes for the curler into the far corner. The ball flashes just wide.
14 mins: After a nifty backheel from Casemiro, Weghorst draws a late sliding tackle from Holmes about 30 yards out. Rashford blams the free-kick goalwards with venom, Lumley dives to save, and Eriksen's follow-up is blocked by the sprawling Loum.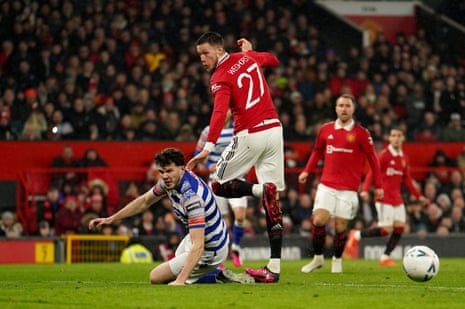 10 mins: Casemiro has added a visible note of quality to this United midfield: everything he does is assured and for the most part inch-perfect. Wan-Bissaka is enjoying himself tonight, getting forward once again to feed Antony in a good position but the winger slips over. Andy Carroll has a big fuzzy beard at the moment, and looks not unlike the baddie from Happy Valley.
8 mins: The Dane whips his free-kick towards the far corner of the goal but doesn't get enough bend on it and the ball skitters wide.
7 mins: More good link-up between Antony and Wan-Bissaka, but this time the latter's cross can't find a United shirt. Rashford then find Weghorst and when he gets the ball back on the edge of the box, he skips past Hoillett to win the foul. Eriksen stands over the ball.
5 mins: Antony finds Wan Bissaka in side the box with a smart nutmegged pass and the right-back's low cross is just behind Weghorst, whose backflick doesn't quite come off. Reading clear the resulting corner.
4 mins: Carroll gets his first taste of action, grappling with Lindelof in a scrap that leaves the United man hobbling. Hendrick draws a foul from Casemiro on the edge of the box. Tom Ince places his shot carefully into the centre of the United wall.
2 mins: United kick off and quickly get a feel for the ball, the midfield and back four knocking about for a long while before a loose Casemiro pass gives Reading the chance to counter. Bruno busts a gut to make it back and sweep up.
The teams are out at Old Trafford and just up the M61, Spurs have wrapped up a 3-0 win a Preston. More on that here:
Harry Maguire v Andy Carroll should be good fun. Maguire is playing for his future at Old Trafford, and Carroll is the dictionary definition of "a handful". Together, they weigh 166kg – exactly the weight of your average reindeer. No, really.
United have hosted Reading twice in the last six years and on both occasions had little difficulty seeing them off. In 2017 Wayne Rooney equalled Bobby Charlton's goalscoring record in a 4-0 win; two years later Romelu Lukaku clinched a 2-0 win for the home side. In fact Reading have only beaten today's opponents once in their history … 96 years ago. But there's a first time for everything.
A spot of pre-match reading, on Old Trafford's returning antihero:
True to his word, Ten Hag has put out near enough his strongest team, resisting the urge to play Kobbie Mainoo or even Alejandro Garnacho from the start. Harry Maguire comes in for Lisandro Martínez in the only change from Wednesday's win.
Ince Jr starts for the visitors, as does Andrew Thomas Carroll, so with Wout Weghorst up top for United, both these sides will be spearheaded by big scary brutes. Lovely stuff.
Man United: Man United: De Gea; Malacia, Lindelof, Maguire, Wan-Bissaka; Casemiro, Eriksen, Fernandes; Rashford, Weghorst, Antony. Subs: Heaton, Martinez, Varane, Williams, Fred, Mainoo, Pellistri, Elanga, Garnacho
Reading: Lumley, Hoilett, Baba, Yiadom (C), McIntyre, Holmes, Hendrick, Loum, Ince, Joao, Carroll. Subs: Bouzanis, Guinnes-Walker, Mbengue, Dann, Craig, Fornah, Azeez, Long, Meite
"We have to do everything to bring a trophy in." Those were the words of Erik ten Hag in the wake of Manchester United's waltz past Nottingham Forest on Wednesday to near enough book their ticket in the EFL Cup final. Now attentions turn to the other domestic cup and right now everything's coming up Erik, with United's only defeat since the World Cup break coming in last weekend's thriller against league leaders Arsenal. Ten games, 23 scored, six conceded and – at long last – zero preening egomaniacs depleting everyone's will to live. What's not to like?
Next up it's Reading, the sort of fired-up underdog that would have had everyone at Old Trafford fearing the worst this time last year, but 12 months on look like the perfect fodder for a momentum-sustaining win. Not least as they have have one win in five and arrive here fresh from a 4-0 clobbering by stoke that led to manager Paul Ince saying that his players had "let the club down". A win at Old Trafford is a big ask for them, but stranger things have happened.
Ince will certainly be keen for his side to impress on the big stage, likewise Ince Jr (AKA Tom) who is of course among the visitors' playing staff. As for United, a couple of judicious changes could give one or two the club's youngsters the chance to do the same.
Kick-off 8pm GMT.