"I jokingly call myself 'Cody's Whip Boy.' When he does something they don't like, they blame me."
"Sister Wives" star Robin Brown on Sunday night's "Sister Wives. He made an emotional statement about the other women in his multiple marriage during the special show "One by One".
Robin has been at the center of Mary, Janelle and Christine's frustrations for years now, as they felt that her husband, Cody Brown, was prioritizing his relationship with her, his newest wife, over the rest of them. Tensions came to a head when Christine announced she was breaking up with Cody, who blasted her on the show's final season, accusing him of never even trying to be friends with Robin in particular.
In the first episode of the postseason special, Christine admitted that she hasn't been on good terms with either Mary or Robin "for years." On Sunday, Robyn was asked if she believed the couple could ever get to a "happy place," a question that prompted her to unload. all women.
Kristy and Cody Brown's daughter admits she 'really doesn't like' sister Robyn 'as a person'

View history
"It's really up to Christine. I'm up for it, but it has to be really based on real things, real trust and real desire," Robin said. I want something real. I want a real relationship with all these ladies, always. Always."
"Before I fell in love with Cody, I fell in love with the family and family culture of one happy family. It's something I mourn over all the time. They took that away from me," he said as he began to speak. break down into tears. "It's really unfair. Sorry, I'm so shy when I get excited. I feel angry, I feel angry at everyone. I am":
"I'm really angry about it and I'm angry about what we've done to our family and I would never have chosen this if I had the power that everyone thinks I have, it wouldn't have happened." he continued. "I feel cheated. I feel totally cheated."
She was then asked if she also felt like a "scapegoat" in her marriage.
"All the time. I jokingly call myself "Cody's whipping boy," he replied. "When he does something they don't like, they blame me. Maybe I'm an easy target because I tend to just take it, not cut myself for it, I don't fight. It's not in my character. fight I'm more of a heart."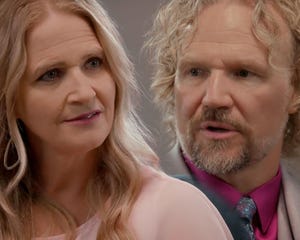 TLC:
'Sister Wives' star Christine Brown says it's 'super embarrassing' Cody was no longer attracted to her

View history
Elsewhere on the show, Robin also opened up about how things were "very difficult" between him and Christine when he first joined the family. "It was tantalizing comments, keeping me out of things, letting me know how things were going to go, getting promoted," he said, adding that "it was hard at first."
The other women all touched on the tension between them throughout the episode, with Janelle saying that Robyn isn't "this perfect saintly person" that she's sometimes made out to be on the show … or at least by Cody. "I'm sorry, he's human," she added, saying she thinks Cody is "a little short-sighted when it comes to Robin in his huts and his perspective."
Meanwhile, Mary said she saw Christine's "disapproval" of Robin, but added: "I also understand that. [Christine]All those years she was just yearning for some attention and love that she just wasn't getting."
Cody also claimed that Christine had a history of "talking" to all three women, but he denied that it was anything serious and claimed that he did the same thing in front of her.
"He would complain about other women too," she said, adding, "not Robin, he would never complain about Robin. I didn't think I was evil."
The One-on-One special continues next Sunday on TLC.
TLC:
Sister Wives Tell All Reveals The Breakup Between Kristin And Other Women, Their Feelings In The Kody Split

View history