Has the soybean pendulum swung from bearish to bearish? Market action over the past few sessions has signaled how the story is changing.
The market has been bullish for the past few months due to the drought that has devastated crops in Argentina. We are seeing an atmospheric change as Argentina finally got some significant rain this past weekend. It was not enough to end the drought, but it was enough to stabilize the crop.
During the week, the chance of significant South American rain continues to feature in the forecast, with two major events expected over the next ten days. It will take a few months for the trade to determine how much the rain has improved the crop, but late rains could have a positive effect on the production of later planted crops.
The USDA currently estimates Argentina's crop at 45.5 MMT and Brazil's at 153 MMT. OilWorld: currently has Argentina's lowest crop estimate of 34 MMT. In the big picture, we expect crops in Brazil and other South American countries to offset most of Argentina's losses.
If: OilWorld If South American production forecast estimates come true, total South American production will fall 13.5 MMT from the USDA's current figure. However, global production will still be a record 374.5 MMT.
Slow start in Brazil
Harvest progress in Brazil is off to a slow start. AgRural: Brazil's harvest was reported to have reached a 2% completion rate as of last Thursday, compared to a 5% pace a year ago. A slow start has allowed the US to hang on to exports longer than many expected. We expect soybean exports to decline as China buys from the US to Brazil. The worst-case scenario for the US would be for China to cancel the undelivered purchases and redirect them to Brazil.
The interest of speculators
Drought noise and slower early harvest rates have sparked interest from the speculator community. It led to a record long fund position in soybean meal (150,939 contracts) and the largest soybean fund position in eight months (253,899 contracts).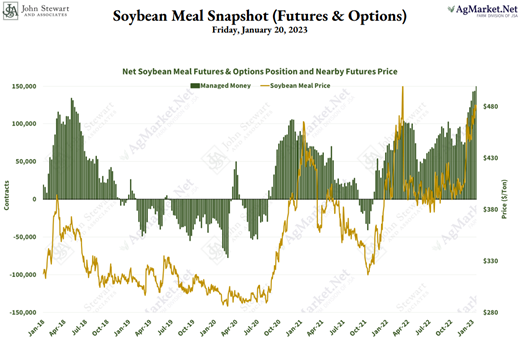 There is a big risk that the funds accumulated in these products may decide to withdraw from them. prices can fall sharply and quickly when this happens. As you can see from the graphs above, price action tends to follow the buying and selling of funds.
New-crop soybeans have recently experienced more downward pressure than old-crop soybeans, which can be attributed to early thinking about the balance of new crops. Early thoughts are on how U.S. soybean acres could reach 88.0 million this spring, up from 87.5 million in 2022 and the USDA's updated 87.0 million acres. Agricultural baseline forecasts the report published in November.
If U.S. farmers planted 88 million acres of soybeans and had a national average yield of 52 bpa, production would be 4.42 billion bushels (87.1 acre crop), an increase of 166 million bushels over this year's crop. If realized, this could result in ending stocks of about 350 million bushels, which is 140 million bushels higher than the current old crop estimate. Ending stocks are projected to increase despite an increase in utilization of 59 million bushels per year.
As it becomes more likely that the weather-driven bull market will end and new crop inventories will increase, we encourage producers to aggressively implement risk management procedures for old and new crop soybeans. When you consider the cost of investment and value for money, the upcoming crop may be the most expensive you've ever planted.
Remember that the market does not guarantee you a profit. it is up to you to do this for your surgery. Feel free to contact me at 815-665-0461 or anyone AgMarket.Net: team 844-4AGMRKT.
The risk of loss in trading futures and/or options is significant and every investor and/or trader should consider whether it is a suitable investment. AgMarket.Net is the agricultural division of John Stewart and Associates (JSA) based out of St. Joe, MO and all futures and options trades are cleared through ADMIS in Chicago IL. This material has been prepared by an agent of JSA or a third party and is solicited or solicited in nature. By accepting this communication, you agree that you are an experienced user of the futures markets, are capable of making independent trading decisions, and agree that you do not rely solely on this communication in making trading decisions. Past performance, whether actual or indicated by simulated historical testing of strategies, is not indicative of future results. Trading information and advice is based on information obtained from third party sources believed to be reliable. We do not warrant that such information is accurate or complete and as such should not be relied upon. Trading advice reflects our good faith judgment at the time and is subject to change without notice. There is no guarantee that the advice we give will result in a profitable trade. Services provided by JSA may not be available in all jurisdictions. It is possible that the country in which you are a resident prohibits us from opening and maintaining your account.
The opinions of the author are not necessarily the same Farm futures or Farm Progress.